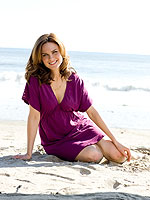 Emily Deschanel is passionate about many things - from Veganism, to Animal Issues, to taking care of other women. The woman is a charity whirlwind!

She's also a big proponent of green living and the environment. Health.com has a Q&A with her about just that where she shares her passion, beliefs, and tips.

Q:

Going green can get pricey. Have any favorite thrifty tips?


A:

Buying used clothes is cheaper. And going to a farmers' market is a lot cheaper than going to a pricier health-food market.
She also talks about her boyfriend, sister, and an interesting fascination with Ed Begley Jr.